CLEAR LAKE
Come Record On Our New Rhodes Mark 1 73!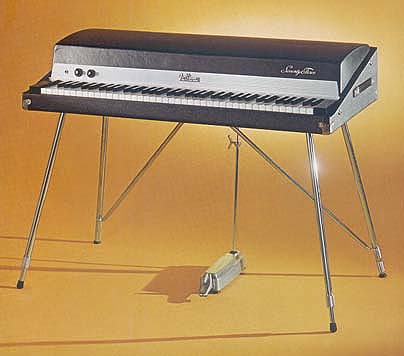 Since the 1960s, Rhodes pianos have been used by a veritable who's-who of legendary musicians. Thanks to our recent acquisition, you too can record on a Rhodes Mark 1 73 at Clear Lake Recording Studios.
History of Rhodes Pianos
Harold Rhodes was a native of California who began teaching piano during the 1930s when he was only 19. His innovative Rhodes Method of piano instruction, combining improvisation and composition, is still used today to teach students as young as four years old.
After joining the Army Air Corps during World War II, Rhodes began giving piano lessons as a way of entertaining other servicemen. In 1942 Rhodes developed the Army Air Corps piano, a 29-note keyboard resembling a xylophone, to make lessons accessible to injured and bedridden patients.
Debut of Rhodes Mark I 73
The original Rhodes piano, based on the Army Air Corps piano and referred to as the Suitcase piano, featured 73 keys. While the Rhodes piano operates with keys and hammers, similar to a traditional piano, the hammers strike tines instead of strings.
The Mark 1 73, widely considered to be the most desirable of Rhodes piano models, was introduced in 1970. Known as the Stage piano, the Mark 1 73 is lighter than the Suitcase piano and features a sustain pedal and detachable legs. Modifications allow the Mark 1 73 to be used with an external bass or guitar amplifier.
Notable Uses of the Rhodes Piano
The unique "Rhodes sound" has made disciples from generations of musicians. This identifiable sound is described as warm, resonant and bell-like, with its versatility making it a particular favorite of jazz musicians.
Legendary jazz pianists Herbie Hancock, Chick Corea and Joe Zawinul ignored the Wurlitzer electric piano in favor of the range offered by the Rhodes.
Billy Preston played a Rhodes during the Beatles' iconic Apple rooftop concert.
Donald Fagen used Rhodes pianos on both his solo and Steely Dan recordings.
Ray Manzarek of the Doors says the group "would never have existed" without the Rhodes keyboard bass, a forerunner of the Mark 1 73.
Record on a Rhodes Mark 1 73 at Clear Lake Recording Studios
We offer independent musicians to chance to record on a Rhodes Mark 1 73 and other elite equipment at affordable rates. Contact us for more information.